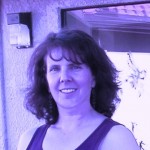 I grew up in a big family with a house full of books.  My father was an English professor and my mother always had a book with her.  Like everyone in my family, I loved to read, but from the beginning, I also loved to come up with stories of my own.
I started writing my first novel when I was eleven.  It was an ambitious fantasy told from the point of view of a grown man.  Raised on Tolkien, and having spent many hours pouring over the volumes of Andrew Lang's Fairy Books with my sister, I wanted to write stories about the kinds of things that happened in Middle Earth and in fairy tales.
But even when I started that first book, I knew I wanted to tell my stories in the way that my favorite 'realistic' books were written: with an intimate focus and the kind of details that capture the human experience so well that I would read a passage and think, "Oh, that's just what it really feels like!"
I've since discovered that there are other people who write fantasy that comes close to what I envisioned.  But I've also learned that combining those elements puts a writer at risk of being 'entre deux chaises' when it comes to genre classification. (One of my fellow participants in the Clarion West Write-a-thon describes her writing as 'too genre' for the literary folks and 'too literary' for the genre folks–that would probably apply to much of my work as well.)
My favorite writer, Ursula K. Le Guin, has pointed out a number of times–both in her wonderful essays and in various discussions about the topic–that there is no reason there has to be a stark division between 'genre' fiction like fantasy and science fiction and 'serious' literature.  Sadly, it appears that this is still an issue, in spite of the many successful books that prove her point.
I also have Le Guin to thank for my discovery of sociological science fiction; it was a pleasant surprise to find that such a thing existed, and many of my stories fall into that category. When I first read Planet of Exile, it was almost startling to find that something that came from someone else's mind could feel so familiar.  (The reference to 'Inner Lands' in my byline comes from one of Le Guin's early essays, and anyone who knows me well knows that she is my 'idol' for many reasons.)
I have a B.A. in Anthropology, with a minor in Creative Writing; I was interested in using cultural anthropology as a foundation for world building in science fiction.  I also wound up with a business degree and a 'real job', but only because I had aspirations of becoming an upper level 3-Day Event rider, which is a very expensive endeavor.  Alas, thanks to the limitations of time and energy, both the horses and the 'practical' career have interfered with my writing.
And it's always been a struggle to keep up with all the new ideas that come to me. Since that first novel, which I took through two complete drafts (the first written entirely by hand!), I've worked on many others, and accumulated quite a bit of material. Although I write short stories too, I consider myself primarily a novelist. (I also write song lyrics and the occasional poem, often occurring within the context of a novel.)
My goal for the next few years is to finish at least half a dozen of my half-finished books, and send them out into the world where they belong.  (It's like sending your kids off to college–and some of mine have been hanging around for far too long!)